Featured Articles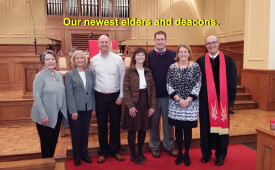 L-R: Sandy Hart, Mary Deal, Andy Cheek, Susan Osmar, Robert Stallings, Chris Knapp with our Pastor, Luke Maybry.
Grouped by: Charlie Bricker
We had a great time in January. Our Cub Scouts of Pack 45 had a super time at the Pinewood Derby. A police officer visited us and the Cub Scouts enjoyed his talk about what he does and some of the items that he uses to do his job...
Scout Yard Sale: April 23rd! Now is the time to start saving those items still in your garage and attic that you are no longer in need of for our annual Scout yard sale on Saturday, April 23,2016 from 7:00am to 12:00pm...