Pam Murphy Teaches Sculpture to YMCA Children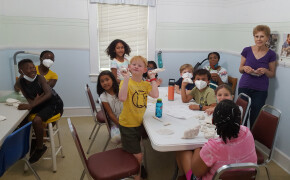 Our own Pam Murphy conducted two Y classes for children during June and July. Pam says, "The kids sculpted on Mondays and Tuesdays, four hours a day, for two days. Sculptures were still wet. Tuesday evening, I with the help of my husband, Rick, baked the wet sculptures in our home oven at 225 degrees during the night. This gave stability to the work, but at a low enough temperature that the pieces didn't explode. Early Wednesday morning we delivered them to the Morrison YMCA in Ballantyne where they were fired at a high temperature (12 hours firing and 12 hours cooling). We picked up the fired sculptures Thursday morning, and the kids painted them, with final painting on Friday.
Click here to see photos of YMCA children
Pam Murphy is an organic and figurative sculptor and has worked in many mediums from graphite, pen and ink, paper and canvas to wood, fabric, metal and ceramics. She has received numerous awards and has been commissioned to create a number of paintings and sculptures, one of which is on exhibition in Ontario, Canada at The Chaffey Community Art Museum.