May 17th Prayer Breakfast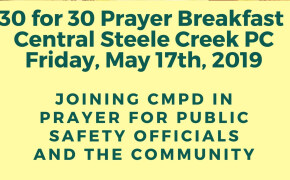 On Friday, May 17th Central will participate with Charlotte Mecklenburg Police Department's "30 for 30" prayer initiative. 30 congregations for 30 days of prayer.
"Our rate of violence is up. Our rate of homicides is up. And, as the people of God, we are not immune. Mass shootings have become a recurring part of American life and religious institutions a recurring setting. As people of faith, we must not be overcome by evil but overcome evil with goodwill. Therefore, we are asking you to pray for CMPD and other public safety officials and our beloved city. We believe that prayer will create a foundation from which to face and address the challenges ahead with wisdom and courage."
Central has committed to pray for first responders and our neighbors in our city and county this Friday May 17th. Everyone can participate! Join the regular prayer breakfast meeting at Steele Creek Café (Westinghouse Blvd). Breakfast will be on your own. Meet there at 9am. If possible, let Sandy Hart know that you are coming ( ). If your schedule becomes available at the last minute, please come!