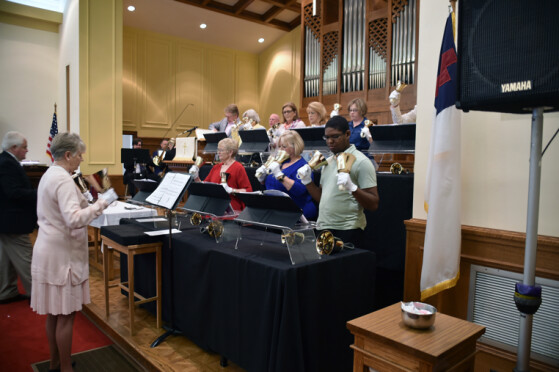 The Central Ringers - Handbell Choir
Led by Director, Nadja Sefcik-Earl, the handbell choir currently meets on Monday nights at 7:30 pm. "The Central Ringers" play three octaves of English handbells and is made up of church members and friends from the Steele Creek community. "The Central Ringers" perform on their own and in combination with other instruments and vocal performers. The choir rehearses weekly throughout the school year and participates in worship services and on special occasions. Even those with no prior musical experience, but having enthusiasm and interest are welcome to join.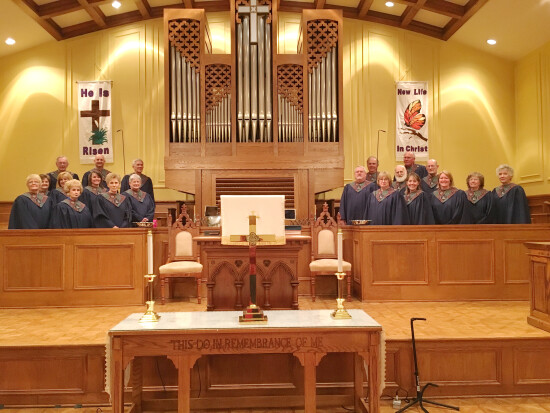 Chancel Choir
The Chancel Choir is made up of adult volunteers who love to sing and lead worship. The choir rehearses weekly on Wednesday evenings in preparation to sing at the service of our Lord each Sunday morning. In addition, the choir performs cantatas and special music throughout the year to highlight the church season. Auditions are not required to join the Chancel Choir. We take our rehearsals seriously, but we also have great fellowship and fun. If you are interested in joining the Chancel Choir, please contact the church office for additional information.

ABOUT OUR ORGAN
The organ is a two-manual and pedal instrument built by Casavant, Freres of Ontario, Canada in 1979 (Opus 3422). There are 22 ranks and 1,128 pipes. The case is made of oak, the naturals are ebony, and the sharps are rose-wood tipped with ivorine. The manuals contain 56 keys and the flat pedal-board 32 keys.
The specifications are as follows:
HAUPTWERK BRUSTWERK PEDAL COUPLERS
8 Praestant 8 Gedackt 16 Subbase HW/PD
8 Rohrflote 4 Spitzgedackt 8 Prinzipal BW/PD
4 Oktave 2 Prinzipal 4 Oktave BW/HW
2 Flachflote 1 1 /3 Quintflote 8 Trompete
II Kornett III Zimbel (1/2)
IV Mixtur (1 1/3) 8 Krummhorn Regal
8 Trompete Tremolo