Central Fine Arts Academy Faculty & Staff

Lori Cauley
Academy Director
Lori Cauley is a native of Columbia, South Carolina. She is a graduate of Hammond Academy and earned a Bachelor of Music Education degree from The University of South Carolina. Ms. Cauley earned a Master of School Administration degree from The Citadel. She was an elementary music educator for 14 years and an elementary assistant principal for 14 years. Ms. Cauley comes to us combining her background in both music and administration to serve as the director of the Central Fine Arts Academy.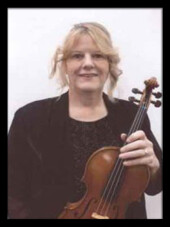 Gail Boyer
Violin Instructor
Gail Boyer earned her BA in Violin and Suzuki Pedagogy from the University of Tennessee music program. She studied under Hiroko Driver, James Ceasar, and Markwood Holmes. She continued her training by completing nine levels of Suzuki Pedegogy training under William Starr, International President
of Suzuki Association of America. Mrs. Boyer has taught orchestra in public school and is a member of ASTA, SAA, Charlotte piano forum, and Music Educators NC. She resides in Belmont NC and enjoys playing in Lake Norman symphony.

Christopher Brown, M.M., NBCT
Chorus Instructor
Christopher Brown, Director of the Choral Music at Alexander Graham Middle School, holds a bachelor's degree in music education from Glenville State College, WV and a master's degree in trumpet performance from Eastern Kentucky University. Mr. Brown is Nationally Board Certified in early/ middle childhood vocal music, and certified in Sacred Children's Music from Chorister's Guild.
Mr. Brown's choral experiences also include directing the Boy's and the Girl's Town Choirs at The Choir School at St. Peters Episcopal Church, children's choirs at Myers Park and Sharon Presbyterian Churches, Hawthorne Lane UMC, and the Young Men's Voices for Young Voices of the Carolinas.

Corinne chiusano (mrs. c)
Dance Instructor
Dear Dance Parent,
My name is Corinne Chiusano and I am so excited to be one part of the creative arts staff here as the Dance Teacher. This will be my 40th year teaching dance and I am so excited to share my knowledge with the children in the program.
My first experience with dance was at a very young age of three, where I studied Tap, Ballet and Jazz from many talented artists from the tri-state area of New York; New Jersey and New England. As a young dancer, I performed with a Children's Performance group who traveled to schools all over the Tri-State area sharing performances of classical ballets for school programs until I graduated High School. During my college experience I performed with Montclair State; Bergen Community College; Saint Leo University; and UCLA as well as Summer Theater and a few video productions. When moving to the Carolina's, I performed with Carowinds Entertainment with Character from Nickelodeon; Host for the Dora the Explorer show; and Sugar Plum Fairy for Winterfest.
I received an AA in Theater from Bergen Community College in NJ. Upon graduation, I received scholarships for my BA in Dance to attend Saint Leo University in Florida. I received a full scholarship to attend the Dance Master program with UCLA but left the program to become Mrs. Chiusano. My dance teachers have been extremely varied from, Diane Shane Diana (former Rockette); Irene Fokine; Peter Genaro; Gus Giordano; along with various staff from my attending Universities.
I have taught dance for the past 40 years, mostly in a studio setting in New York and New Jersey. For the past 14 years, I have had the pleasure of taking my skills into CMS schools at teaching dance to 6, 7 and 8 graders. I have also done some choreography work for Rock Hill Community Theater.
My passion for dance has given me the vision of me to share with students how important the arts are to our community. My class is designed to guided students in a strong foundation of Ballet and Modern Dance. This foundation is the first step in strengthened posture, developing muscle groups and responses and well as the poise and grace which is necessary to achieve performance. Mixed with creative expression, your dancer will know the beauty of dance as well as the possibilities it holds for them.
I look forward to sharing the techniques, balance, expression and freedom of dance with your child.
Corinne Chiusano (Ms. C')

Yamuel Perez
Guitar Instructor
My name is Yamuel Perez-Sanchez, and I am 38 years old. I am blessed to have a wife and a three-year-old daughter who give me support and joy. I never thought that one day, I was going to be a teacher. Everything started when my aunt, who is a teacher, needed me to drive her to take the Visual Impairment Certificate for the Department of Education in Puerto Rico. She invited me to take the certification if I needed it in the future. That certification opened the door to have my first job as a Special Education Teacher right after I graduated from my first bachelor's degree in Elementary Education in 2004.
In High School, I was in the choir and learned how to play the guitar. My music teacher taught me that persistence and discipline are the keys to success. Therefore, in 2005, I decided to study a second bachelor's degree in Music, combined with an Associate in Business Music. So, in 2011, I started working as a Music Teacher, allowing me to win a second (2013) and first (2014) place in Concert Choir in Orlando Fest, Florida. Also, to produce three theatre productions and to be Teacher of the Year in two consecutive years (2013-2014) at Mennonite Academy in San Juan, Puerto Rico.
In 2013, I had the opportunity to finish my master's degree in Special Education. Two years later, I worked as a Fine Arts Facilitator in the Department of Education of Puerto Rico. Then, in 2016-2018, I worked as a Special Education, Music, and Spanish teacher at Ave Maria Prep School in Florida. Today I am studying the doctorate in Transformational Leadership to contribute even more in the educational field. Therefore, working for fifteen years in Special Education, Music, Spanish, and Elementary Education was the achievement of people who taught me about persistence, encouragement, and responsibility at critical moments of my life. We need people who can guide us positively. Their support and help are essential because they define and transform our learning experiences.

Pam Murphy
Visual Arts Instructor
Credentials:
AA – Business, Chaffey Jr. College, Alta Loma, CA
AS – Respiratory Therapy, Mount San Antonio College, Walnut, CA
BFA – Metal Sculpture, Cal State University, Fullerton, CA
MFA – Ceramic Sculpture, Cal State University, Fullerton, CA
I've been involved in many aspects and mediums of art, and for many years. Drawing - (portraits and illustrations), Painting – (portraits), Pen and Ink drawing with nibs – (portraits, scenes and 20 + years making Victorian Christmas cards), Papermaking – (for sculptures, paper sheets, cards & other paper projects), Wood – (carving sculptures), Metal sculpture (bronze casting – sculpting work in wax, investing and casting in bronze – "lost wax process") as well as Glass casting – (sculpture).
As a ceramic artist, I normally sculpt in clay – various types, and after completing a piece, I often make a mold of the work, from which I can then produce a duplicate or duplicates. Some of my pieces have been created using burled wood and sculptures, fusing them together, molds made and new sculptures created.
I've painted a number of private portraits in oil on canvas or watercolor, (some commissions), illustrations for advertisements and logos for businesses and organizations.
As a sculptor, my work can be found in private collections in homes, several businesses - (on the desks of public officials) and in an art museum. My love for nature is shown in the subjects I choose to sculpt - organic objects such as seashells, sea-life, plants and animals. My passion is my attempt to portray the human face in portrait busts, depicting various forms of human emotion. My most recent portrait bust was my representation of Jesus Christ.
Most of the visual art taught in schools is flat and my goal is to give children the basic principles of sculpture, with an appreciation for visual art in the third dimension. I want them to have an awareness of the weight, substance, feel and form of the object they have created. As an organic sculptor, my concentration will be on having the students make sculptures that look like objects and forms from nature. Sculpting clay will be used, and the children will be encouraged to use sculpting tools. After the "work" is completed and dried, it will be fired to 2232 degrees F – (bisque firing). Later, if the child chooses to add glazes to their "work," the piece will be fired again, to a lesser temperature, making the glaze layer a permanent part of the piece. If they would like, they may simply paint the fired work with acrylic or other non-firing substances.